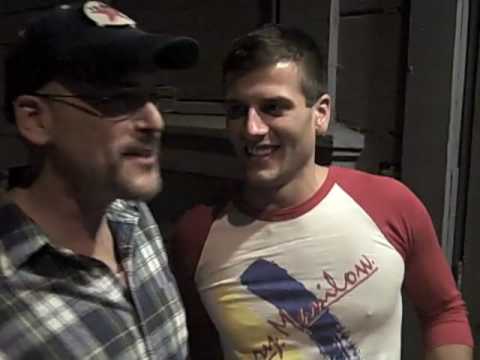 A couple weeks ago we caught up with Hot House favorite Derrek Diamond.  Director of Photography for Hot House Entertainment Barry Muniz got some words and abs from the smooth skinned Diamond.  The model lives up to his name, his eyes and smile sparkled in what little light there was as Muniz conferred with him on who should win the contest.  The Hot House sponsored Meat Packing event is a monthly fundraiser put on by the AIDS Emergency Fund.  Sister Roma and Bruce Vilanch were the other two celebrity judges.  Vilanch came at the invitation of Roma causing the event to be the most profitable of the season.  Make sure and catch Diamond in Skuff 4 and this Saturday night (5/30) from 10pm to 1am at San Francisco's own Truck bar located in SoMa at 1900 Folsom Street, San Francisco.
All the stars came out for the Hot House sponsored Meat Packing Contest (Johnny Razzaroli - the MP winner with Sister Roma, Derrek Diamond, Bruce Vilanch and Barry Muniz)

Aaron and Walter heat up the inside Powerhouse

Contestants came all the way from Spain to appear in the Meet Packing contest!
Tags:
1900 Folsom Street
,
Aaron Baldwin
,
aids emergency fund
,
bar
,
barry muniz
,
bruce vilanch
,
California
,
celebrity judges
,
contestants
,
Derrek Diamond
,
Director of Photography
,
favorite
,
hot house entertainment
,
Johnny Razzaroli
,
meat packing contest
,
model
,
powerhouse
,
san francisco
,
Saturday
,
sister roma
,
Skuff 4
,
SOMA
,
Spain
,
sponsored
,
Truck
,
Walter Gómez